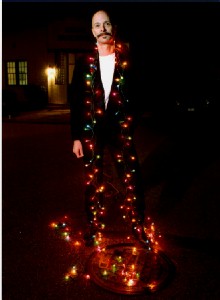 Richmond Times Dispatch staff photo
Once upon a time long, long before annexation, when there was a king and the people trembled, the ancient Holy City was a scruffy little town of old tobacco warehouses and used car dealers and sad little boys and girls.
The boys and girls were sad because for as long as they could remember, the brightest thing at Christmas was the sparkle in the eye of Santa Claus at Miller & Rhoads.
They loved Santa dearly. But they knew there could be more to Christmas because when they visited other cities and towns, they saw glorious, twinkling lights colored green and red and every color.

''There's more to Christmas than a string of running cedar and a beige candle in the window. I just know it!'' cried little Tommy.
Then a balding man named Barry Gottllieb, a k a Mad Dog, moved to the scruffy little town from somewhere up north and noticed that the children were sad.
''This is a scruffy little town where the children seem sad and all the Christmas decorations are beige. Except for the running cedar,'' Mad Dog was rumored to have said. ''What we need is something called the Tacky Xmas Decoration Contest.''
The idea blossomed like a poinsettia.
Now Mad Dog is leaving the ancient, not-so-scruffy city for a laid-back spot on the West Coast. But his wackiness will live on -- the little flame he lit in the scruffy city has become a wildfire. Which is why, from the air at Christmastime, Richmond and its suburbs resemble an incendiary device.
''When we came here it was sort of like everybody used a candle in the window for decorations,'' said Dan Wollschlager, who lives at 5712 Maple Brook Drive in Chesterfield's Woodlake development.
Wollschlager missed the excitement of Christmas displays back home in Hale's Corners, Wis., and chanced a modest string of brightly colored lights his first year in the ttony community. That was six years ago and, like Gottlieb, the Wollschlagers have helped turn lthe neighborhood into a bonfire of community pride and dazzle.
When Wollschlager's 70-plus mother visited a few years ago and saw how the family tradition had evolved, her words matched those of many first-time visitors: ''She said, 'Oh, my God,' '' son Dan recalled.
Now Woodlake knocks the stockings off Hale's Corners when it comes to decorations and Woodlake neighbors vie against one another for Best Neighborhood. The Wollschlagers, even with daughter Kelly at college and wife Heidi partially incapacitated by a shoulder operation, keep a bulb or two ahead of most of the competition.
''We had to add new categories in (the Woodlake Winter Wonderland) contest because people were saying there's no way we can beat the Wollschlagers,'' said a Woodlake source. ''We get into it pretty good,'' DWollschlager confirmed.
Gottlieb said this week that he doesn't expect his move to the West Coast will dim the holiday brightness around Richmond.
''I was thinking about putting out my official list of tacky houses again this year but I realized that this whole thing pretty much runs on its own now.''
His fondest memories will be of the outpouring of interest when the tacky house tour began 10 years ago. ''I figured I could rent one of those trolleys for about 15 people,'' said Gottlieb.
''That filled up right away. Then I rented a bus and that filled up in an hour. Then I rented another bus and that filled up.''
At one house decked out in blue lights, tour members spontaneously broke into Elvis' ''Blue Christmas.'' At another house, tthey marveled at the lifelike figures on the roof wrapped in lights. ''After a while, we realized that the lifelike figures were real people,'' Gottlieb said, laughing.
Now a house draped in 20,000 or 30,000 lights is common. Bus tours. Cab tours. Limo tours. Endless streams of gawkers, some from as far away as Washington. Endless newspaper and television publicity.
''I was thinking a helicopter tour would be a great way to go out,'' said Gottlieb.
''Oh, no. That can't be,'' said Virginia Johnson, when she heard Gottlieb won't put out a list this year and there won't be an official tackiest house.
A past first-place winner, Johnson said her home at 2100 Rosewood Ave. in Randolph is pushing 70,000 lights. ''We can't go sideways, so we're going up,'' she said.
Cathy and Michael Ward, who live at 11251 Dumaine Drive off Genito Road, said their home is barely recognizable this year.
''I've got a big tree up on the roof 25 feet high,'' Michael Ward gushed. ''There's an eight-foot-wide star on top and a sign across the roof saying Happy Holiday and . . . .'' Well, you get the idea. Even at Halloween, kids who come by the Wards ask how long 'till Christmas.
Ward got a little anxious when asked how many lights he has. ''I don't know. t . . . But these are big lights, not those little ones. C7s and C9s. The number doesn't mean that much. It's how big they are.''
Don't think it's all fun and games, either. The lights at the Wards always are illuminated on the weekend closest to Dec. 2. That's the day Cathy Ward's mom died.
The list of spectacularly decorated homes is growing, and so is the commercialism. You can visit one of the largest displays, 1 1/4 miles of lighted scenes, at The Fairgrounds on Strawberry Hill. Proceeds go to Atlantic Rural Exposition's scholarship program.
It all staggers Gottlieb. ''I have this image of 20 years from now Richmond being the biggest place in the world for Christmas lights and people will all be asking, 'How did this thing ever get started?'
''It's like I've seen the ghost of Christmas future. But I'm not going to be anywhere around. When they come looking for me I'll be in Bangkok or Havana sitting at a bar sipping some Jose Cuervo.''
© 1996, Richmond Newspapers Inc.