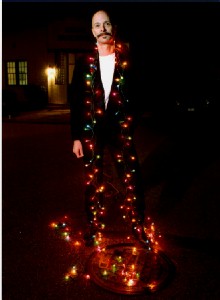 Richmond Times Dispatch staff photo
The Top 10 Disclaimers We Want You to Remember About Our Annual Tacky Christmas Lights Tour List:
10.Barry "Mad Dog" Gottlieb, who came up with the original Tacky Xmas Decoration and Grand Highly Illuminated House Tour back in 1986, isn't mad. Nor is he a dog. Even if he did desert us for the highly illuminated likes of San Francisco a couple of years ago.

9. You really do need to make sure any guided-tour serv- ice you hire is licensed. We list what's available, but we are not the DMV. (Our lines are much shorter.)

8. It's only a rumor that Frank Hudak at 2300 Wistar Court has hooked himself up to Virginia Power. That's a battery pack in his jacket, folks, and he IS glad to see ya.

7. Ditto for the Edmonds at 1310 Barnard Drive. Lucky the Dog's not literally plugged in; he's packin' Duracell.

6. No, "The List" isn't necessarily the whole list. We're pretty sure some of our faithful lighter-uppers forgot to let us know they were decorating again this year. There's still time - e-mail Weekend at weekend@timesdispatch.com, write Tacky Tour c/o Weekend, P.O. Box 85333, Richmond, Va. 23293, or fax (804) 649-6836 to the attention of Tacky Tour.

5. After 10 years, we're running out of light/bright/wattage/glow/ bulb/circuit words and phrases. We just thought you should know.

4. It's not considered good behavior to park your van in front of someone's driveway, pile out and spend 20 minutes in a tour participant's yard while the neighbors are trying to get out onto the street. Please. Be kind. What if it were your cul-de-sac?

3. Yeah, we miss the radio station tacky tours, too. Garet Chester and Bill Bevins rocked as tour guides. Say, maybe if you start asking now, your fave station could sponsor a bus or two next year. How 'bout it, guys?

2. You only think you need sunglasses when you see some of these displays. But they're not a good idea when you're taking the tour. At night. Which you will be.

And the No. 1 Disclaimer is . . . tacky is as tacky does. Remember, we mean "tacky" in the most loving way. Yes, your displays can be tasteful. Some, for example, incorporate only wreaths and white lights. But let's face it. Throw 75,000 lights up anywhere, no matter the color, and you've gone a bit beyond the norm. But hey, we love you for it!

THE LIST
Ready to pile into the car and see the best wattage displays this side of Las Vegas?

Here's our 10th annual tacky Christmas lights tour list. And frankly, we just couldn't be prouder.

We'll update the list throughout the season - each Thursday in the Weekend section as well as in other Flair sections and at www.gatewayva.com

Please note that many of the "Nonresidential" listings actually offer more activities than tree-lightings or illuminations - the details of which you'll find in our Weekend calendars this week (starting on page E20) and in weeks to come. But for this list, we're including the lighting events only. Happy viewing!

WEST END AND NORTH SIDE
1310 Andover Road (Farmington)
9606 Asbury Court (Farmington)
9308 Avalon Drive (between Patterson and Derbyshire)
1310 Barnard Drive (Farmington)
9328 Coleson Road, Glen Allen
2719 Hungary Road
10114 Kexby Road (off Woodman), lighting Saturday
3404 Pine Dell Ave. (off Parham and Broad)
2100 Rosewood Ave. (off Meadow)
8202 Shelley Road (off Patterson and Forest), lighting Sunday, till 10:30 weeknights and 11:30 weekends
7311 Somoa Drive (behind Henrico County Courthouse)
2300 Wistar Court (off Skipwith), lighting 6 p.m. Dec. 3
7709 Yolanda Road (off Anoka from Skipwith)

SOUTH SIDE
6801 Full Rack Circle (Deer Run), Midlothian
9806 Proctors Road (near Bellwood Elementary School)

RECOMMENDED (but not yet checked)
9903 Brenspark Road, Chesterfield, lighting tonight
5901 Deerwater Court (Huntington Creek), Chesterfield, till 11:30 weeknights and 1:30 a.m. weekends
8340 Ellerson Farm Drive, Mechanicsville, lighting Wednesday
136 Seven Pines Ave., Sandston
4500 Studley Road, Mechanicsville, lighting first week of December
7 Swanee Court, Ashland, lighting Wednesday

RICHMOND NONRESIDENTIAL
Cary Clarke Dance Academy, Rockwood Plaza, Hull Street and Courthouse roads; lighting 5-10 p.m. Dec.13-Jan. 2
Cultural Arts Center at Glen Allen, 880 Mountain Road; tree- lighting 5:15 p.m. Dec. 4
GE Assurance Holiday Village, 6604 W. Broad St.; 2-5 and 6-8 p.m. Dec. 5 and 12, 6-8 p.m. Dec. 6, 8 and 10
James Center, 10th and Cary streets; Richmond Grand Illumination plus Shimmering Shockoe Lights and lighted canal boats 6 p.m. Dec. 3
Lewis Ginter Botanical Garden, 1800 Lakeside Ave.; Gardenfest of Lights 5:30-10:30 p.m. Wednesday through
Dec. 30 (except Dec. 24- 25), $3-$5
Libbie and Grove avenues
Main Street between Harrison and Lombardy
17th Street Farmers' Market, 17th and East Main streets; tree- lighting 7:30 p.m. Dec. 3
The Jefferson Hotel, Franklin and Adams streets; tree-lighting 6 p.m. Monday
Virginia Museum of Fine Arts, North Boulevard and Grove Avenue; tree-lighting 6-8 p.m. Dec. 9

OUT-OF-TOWN NONRESIDENTIAL
Alexandria - tree-lighting, Market Square, 301 King St.; 7 p.m. tomorrow
Norfolk - Lighted Boat Parade, visible from Norfolk and Portsmouth waterfronts; 6 p.m. Saturday
Petersburg - "Lighting of Petersburg," Siege Museum, 6:30 p.m. Dec. 3; and tree lighting, Sycamore and Old
streets, 7 p.m. Dec. 3
Petersburg - tree-lighting, Virginia State University president's residence; 5:45 p.m. Monday
Williamsburg - 64th annual Grand Illumination of Colonial Williamsburg; beginning 4:15 p.m. Dec. 5

THE GUIDES
Looking for someone to chauffeur you through the lights fantastic? Following are a few ideas, from coaches and carriages to trolleys and limos.

A word of caution: E.R. Throckmorton, president of Virginia Limousine Association, says there have been problems in the past with unlicensed limo companies. To make sure a limo service is licensed properly, call DMV Motor Carrier Services at (804) 367-0270 or visit the DMV Web site at www.dmv.state.va.us. In the event of an accident, insurance companies could deny coverage to limousine services without the proper authorization.

Interested in the possibility of other bus tours? Check the Yellow Pages and call your local bus company. Or if you know the route and want to take along half your neighborhood - but drive a VW Bug - you might want to rent a minivan. Again, check the Yellow Pages.

This list will run today only, so clip and save if you like.
© 1999, Richmond Newspapers Inc.