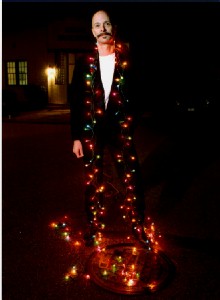 Photo by Stuart T. Wagner, courtesy

of the Richmond Times Dispatch

It began as a sneaky way to find out where the biggest, brightest, and gaudiest Xmas decorations were. The first bus sold out in four hours and a second one sold out the next day. Houses were solicited; judges drove around drinking wine and rating the houses in categories like Overall Wattage, Motion, Sound Effects, the Holy Shit Factor, and Bad Acid Flashback; and when the night of the tour came around there were an estimated 100 cars trailing behind the buses. Six made it all the way. The winners received money, ornaments, and the tackiest trophies imaginable.

Since then the lights have blossomed and the city of Richmond has become obsessed with Xmas lights. Radio stations promote charity bus tours, every limousine and bus company gives paid tours, the TV stations show shots of the houses behind the weather, and the newspaper prints weekly lists of the houses. And more and more houses are putting up more and more decorations.

Now that's a legacy to be proud of.



2022
The End of a Tacky Lights Era
Sadly, after 51 years of having one of Richmond's best Christmas lights displays, being an early and common winner on the official Tacky Lights tour, and raising over $175,000 for the Virginia Home for Boys and Girls, this is the last year Frank Hudak on Wistar Court will be decorating. Frank won the first year of the tour so our history runs deep. You'll be missed, Frank! Learn why here!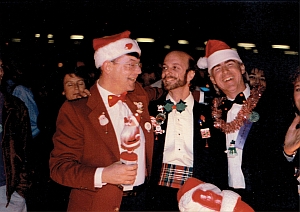 2020
Tacky Lights in the Time of a Pandemic
As of early October most of Richmond's big light houses will be decorating but one long-time mainstay has decided for safety not to decorate this year. Learn who here!
Richmond's List from the Times Dispatch

Some old, some new. Some lit, some not. All with special Xmas pandemic rules. Here's this year's list from the Times-Dispatch. Go ahead, take a look.
2019
How It All Started

A great article in Richmond Magazine by Harry Kollatz, Jr. abou tthe beginnings of Richmond's Tacky Xmas Decoration Contest and Grand Highly Illuminated House Tour, complete with old archive photos! Take a look!
House Beautiful Picks Richmond
In their list of the best light display in each state, most were about a specific display. Not for Virgina. Richmond as a city won! "You know a city has a lot to offer in the way of lights when it has tours dedicated not just to beautifully decorated homes but also to tacky ones. Each year the...residents go all-out to land a coveted spot on the list. What does that mean for you? Tons of Clark Griswold-style, over-the-top homes for you to take in and get into the Christmas spirit." Check it out.

Fodor's Travel Picks....Yes, Richmond!
Number 2 on their list of Most Bonkers Holiday Lights Displays in the United States, and one of the few listings that wasn't a specific display, "In Richmond, Virginia, tackiness isn't just attempted, it's achieved and celebrated. Each year, trolley and limo tours (with digital fireplaces and holiday music) take gawkers to some of the most outrageous displays in the city." Read it all here
And They're Off! I Mean, ON!
The Richmond lights displays have kicked off, with new entries, old favorites, and a few taking a sabbatical. Find it all here.
2018
Richmond Family Magazine's History of Richmond Lights
An in-depth look at Richmond's love affair with lights, from Edison to the Tacky Xmas Decoration and Grand Highly Illuminated House Tour to the Tacky Light Run. Get lit here.
Photo Tour of Richmond's 2018 Best
Richmond.com presents a photo gallery of this year's top houses. And much much more! Lookie here.

2017
Richmond Times Dispatch Releases Their List For This Year

The 2017 list of Richmond's best houses with some new ones and a few classic ones taking the year off. Take a look and check 'em out!
The Fabulous Phifer House WINS "The Great Christmas Light Fight"!!
They were on the very first Tacky Xmas Decoration Contest and Grand Highly Illuminated House Tour and won several times - maybe even the first year. Who remembers? Now they're bigger and better than ever and WON ABC's "The Great Christmas Light Fight" on ! Read all about it

2016
Richmond's #7 on Travel + Leisure's "Best Lights in the Country" List

"If you're looking for fantastically tacky Christmas displays, Richmond takes the cake with its 'Tacky Lights Tour'." Not too shabby! Check it out (and the competition)
Long Time Tour House Win TV Light Competition!
Al and Esther Thompson, who have been decorating their house for over 40 years and are long-time Tacky Tour favorites, won $50,000 (!) by winning ABC's "The Great Christmas Light Fight."
2015
Tacky Light Tours: 30 years ago, Barry "Mad Dog" Gottlieb Changed Christmas in Richmond Forever
Style Weekly takes a flattering look at how it all started and what it's become.
It Isn't Even Veteran's Day Yet
Yes, the Pittsburgh Post-Gazette has already run an article, Out-of-town holiday fun both frosty and tacky, which includes a great, long section at the end about Richmond's Tacky Lights Tour with a nice history of the event.
Limos and Buses and Uber, Oh My!

In case the buses and limos and long lines of private cars wasn't enough, a group of Uber drivers in Richmond have banded together to give their own Uber Tacky Tour.
2014
Mom's & Mad Dog's Light Years Apart Holiday Tours of RIchmond
A great article by Tom Laughon about the two sides of Richmond lights.
A Drone's-eye View of Tacky Lights!
Richmond photographer Daryl Watkins used a drone to shoot video of Al and Esther Thompson's at 9716 Wendhurst Drive in Henrico County, giving you a view of tacky lights like you've never seen. Story and the video here.
This Year's (Unofficial and Overly Complete) List
The most current, complete, and up-to-date list for 2014, courtesy of Richmond.com and the Richmond Times Dispatch.
2013
The Tacky Xmas Tour makes the Travel Channel!

Check out Xtreme Xmas on the Travel Channel (also available On Demand and in reruns on Comcast and other cable networks) featuring the Tacky Xmas Tour, the Pfeiffers, Frank Hudak and more! (NOTE TO TRAVEL CHANNEL: It wasn't started as a joke, it was started as a lark.)
Famous on the West Coast too!

Richmond's Tacky Xmas Tour is prominently mentioned in an article in the Daily Titan, the newspaper at California State University, Fullerton, in an article about a highly illuminated house in town.
The (Unofficial) List for 2013
Here's richmond.com's list of the best houses to check out in Richmond for 2013.
2012
Natalie Handel of Agence France-Presse tells the world about Richmond being the Tacky Xmas Capital!

The Travel Channel is going on a bus tour of the lights with Winn Transportationfor a show about Christmas Lights to air in 2013!